Looking for the Top PCD Pharma Franchise in Ludhiana for potential partnerships? Want to grow at another level in your pharmaceutical business? Then associate with Amzor Healthcare! The company has created its valuable presence in the healthcare industry by bringing a remarkable change in the lives of people through its pharma products. Being the Best PCD Pharma Franchise Company in Ludhiana, we are commercializing an advent range of pharmaceuticals that contain 300+ pharma products covering various therapeutic areas like Gynaecology, Cardiology, Dermatology, Orthopaedics,  Nutraceutical Products, etc.
Furthermore, our company has got a stronghold over the domestic pharmaceutical market through its valued associates who are working round the clock and providing high-end pharma products and medicines to the needful. We are working with a wide number of associates all across the country. And now we are intending to deepen our roots in Ludhiana, Punjab, therefore, offering PCD Pharma Franchise in Ludhiana on a monopoly basis and along with some other benefits too such as promotional support, timely delivery, etc.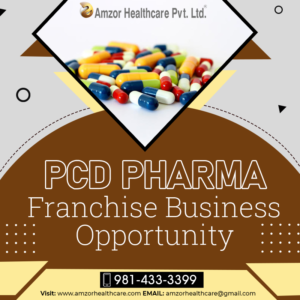 For collaborations or any other query, you can call us at +91 981433399 or drop an e-mail at amzorhealthcare@gmail.com. Don't hesitate, grab this marvelous franchise business opportunity now!
Top PCD Pharma Franchise Company in Ludhiana – Amzor Healthcare
In recent years, the pharmaceutical industry has witnessed a tremendous amount of growth in which the key factor favoring the growth is the demand for quality pharmaceutical products and medicines that aren't getting completed yet. Therefore, Amzor Healthcare has to hold the leading position in the market to calm the surging demands. The firm is formulating 100% pure, side-effect-free, and most effective pharma drugs to treat various chronic diseases.
Other factors making us the Best PCD Franchise Company in Ludhiana:
State of the art cGMP manufacturing facility,
Contamination-free spacious warehouses,
Tie-ups with certified vendors of the industry,
Have a robust logistic channel, etc.
These are some salient features of our leading PCD Pharma Franchise Company in Ludhiana. If you want to get benefitted from our marvelous features then do join hands with us today!
Exclusive Product Range for Pharma Distribution Business
Leveraging our profound knowledge, R&D expertise, and path-breaking research, we manufacture best-in-class pharma products and medications using biologically active ingredients. Along with it, we have hired experienced hands and skilled minds who carry out bulk production, therefore, our product range is most celebrated. We are formulating pharma medications in various dosage forms including solid, semi-solid, and liquid.
Product Portfolio for PCD Pharma Franchise in Ludhiana:
Capsule,
Drops,
Injection,
Liquid,
Tablets,
Dental,
Dry Syrup,
Sachet, etc.
These are the product categories available for the pharma distribution business in Ludhiana. And if you want to earn handsome profits and desired success in a short span of time then do collaborate with us now!
Unique Aspect of our Leading PCD Pharma Franchise in Ludhiana – Hired Professionals
Our firm has become increasingly popular across individuals, pharma distributors, retailers, and other pharmaceutical companies as we have hired people with a unique combination of education, skills, and knowledge. Our company recognizes respect uniqueness, therefore, empowered by the most enthusiastic, hard-working, and skilled workers who work round the clock to provide high-end drug combinations.
Team of Amzor Healthcare Comprises the Following:
R&D team
Pharmacists,
Quality controllers,
Chemical engineers,
Management personnel,
Production staff,
Qualified engineers,
Warehouse and packaging staff,
Sales and marketing professionals, etc,
These are the job profiles at our leading PCD Pharma Franchise Company in Ludhiana. We never miss a chance to reward them! If you want to work with skilled minds then associate with us!
Exclusive Perks of Holding the Hands of Amzor Healthcare
We believe that collaboration is necessary for every pharmaceutical company. Hence, we are offering astonishing franchise business opportunities to all the interested medical personalities all across the county. Now we are targeting Ludhiana to broaden our reach to this city too. Further, we want that our franchise associates grow with us, therefore, we offer marvelous perks to our business partners.
Advantages of Joining our Leading PCD Pharma Franchise Company in Ludhiana:
Unique Monopoly Rights,
High-Profit Margin,
Prompt Delivery,
Great Product Packaging,
100% stock availability, etc.
These are some perks to avail of being a proud franchise partner of Amzor Healthcare. Further, you can get unique and innovative products frequently. Don't miss the chance to set up your own business!
Key Benefit Owning PCD Pharma Franchise in Ludhiana – Promotional Support
By working with us, you get a marvelous perk of full promotional & marketing support. Our franchise associates are retaining customers easily and penetrating the market in an efficient manner. We are providing a great package of promotional material at zero cost that contains remarkable tools.
The followings tools are provided to our valued franchise partners:
Diaries,
Writing Pads,
Marketing Bags,
Reminder Cards,
Notepads,
Product Cards,
Visiting Cards, etc.
If you are planning to enter the pharma field through a reliable franchise business opportunity then commence a PCD Pharma Franchise Company in Ludhiana and enjoy exclusive perks. We have mentioned our contact details below, reach out to us today!
Contact Information
Name: Amzor Healthcare
Address: #251, Sarangpur, Chandigarh India – 160014
 Phone: +91 981433399
Email: amzorhealthcare@gmail.com.